Proceeds to benefit cancer patients in need
Bradenton, Fla., Nov. 10, 2021 — A month-long fundraiser sponsored by Swim Across America and The Villages® Community raised $50,000 to support the Florida Cancer Specialists (FCS) Foundation in providing vital non-medical financial assistance to cancer patients in need.  The event, held in October, was hosted by The Villages® Recreation and Parks.  Each participant completed a swimming goal at one of The Villages® pools; many chose to swim in memory or in honor of a special person in their lives.
Representatives from Swim Across America, The Villages® Community and the FCS Foundation gathered recently for check presentations of the proceeds. All of the funds raised will be used to provide grants to adult cancer patients in the local community to assist in paying for non-medical expenses. Since it was established in 2011, the FCS Foundation has provided over $8 million to individuals undergoing treatment, enabling them to focus on fighting cancer.
FCS Foundation Vice Chair Maen Hussein, MD said, "We are extremely grateful to all of our partners and especially the residents of The Villages® community who live such an active lifestyle. They enthusiastically jumped in to help assist cancer patients in need."  "We are delighted our partnership in its first year raised $50,000 that is going to help patients and their families with needs related to their cancer treatments," commented Rob Butcher, Swim Across America CEO. "My mom was a patient of Florida Cancer Specialists, so this opportunity to make a difference and help other families means a great deal to me."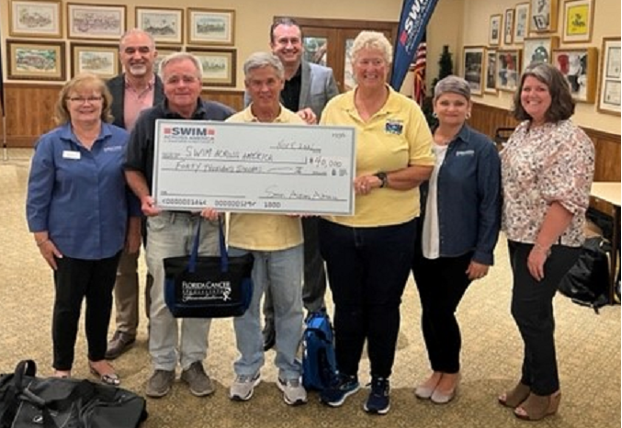 Swim Across America is dedicated to raising money and awareness for cancer research, prevention and treatment. The non-profit has grown from sponsoring a single open water charity swim nearly 35 years ago to now hosting more than 21 charity open water swims across the U.S. that have raised more than $85 million to fund early stage cancer research and clinical trials.
FCS Foundation Executive Director Lynn Rasys added, "We look forward to continuing this partnership, which will greatly enhance our ability to assist many more adult cancer patients at a time when requests continue to rise."
###
About Florida Cancer Specialists Foundation
The Florida Cancer Specialists Foundation provides financial support to qualified adult cancer patients in the state of Florida for expenses such as rent or mortgage, car payments and utility bills. By giving patients peace of mind in knowing that their bills are being paid while they are undergoing treatment, the FCS Foundation allows them to concentrate on what really matters – fighting cancer.
Due to the generosity of the Florida Cancer Specialists physicians in covering all overhead expenses for the Foundation, 100% of donations received go directly toward paying the essential non-medical living expenses of an adult battling cancer.
The Foundation is a 501(3)(c) nonprofit organization located at 5985 Silver Falls Run, Suite 210, Bradenton, Florida 34211. Learn more about the FCS Foundation at: FCSF.org or call (941) 677.7181.
For More Information, Contact:
Lynn Rasys, Executive Director
Florida Cancer Specialists Foundation
LRasys@FLCancer.com
(941) 677.7184
Michelle Robey, Vice President of Marketing
Florida Cancer Specialists & Research Institute
Michelle.Robey@FLCancer.com
(813) 767.9398