Pharmaceutical Executive Jill DeSimone & FCS Oncologist Raul Storey, MD Enrich FCSF Board
Bradenton, Fla., April 15, 2022 — The Florida Cancer Specialists (FCS) Foundation (FCSF) is adding pharmaceutical executive Jill DeSimone to its Board of Directors, as well as announcing the appointment of Raul Storey, MD as Vice-Chair of the Foundation Board. The FCS Foundation provides financial assistance for non-medical living expenses to qualified adult cancer patients who are currently undergoing treatment in Florida, allowing them to focus on their treatment and recovery, rather than overdue bills.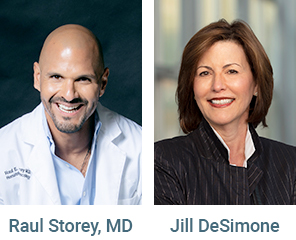 "It is extremely exciting to welcome Jill DeSimone to our Board," said FCS Foundation Board Chairman Maen Hussein, MD. "Her experience and broad understanding of oncology will enhance the board's efforts in pursuing its mission. Additionally, having my colleague Dr. Raul Storey serve as Vice-Chair is particularly gratifying. Dr. Storey is known for his excellent care and compassion for patients and their families. His enthusiasm is contagious and he is a tremendous asset to our board."
Jill DeSimone has built a reputation for leading large-scale global business transformations that revitalize Fortune 500 companies and revolutionize patient care with innovative, cutting-edge therapies. In her most recent role as President, U.S. Oncology at Merck, Jill accelerated the transition from a legacy primary care company to a specialty business by creating and launching the U.S. Oncology business. She also has considerable experience in the non-profit sector increasing diversity and enabling strategic development initiatives.
"I am honored to join the board of Florida Cancer Specialists Foundation," DeSimone said. "Their mission to help patients financially allows me to continue my service for patients and their families."
Raul E. Storey, MD is a board-certified Medical Oncologist providing cancer care to patients at the Florida Cancer Specialists & Research Institute (FCS) clinical locations in Vero Beach/Sebastian. He is beloved by his patients for his tireless dedication to enhancing the quality of life for those with cancer. Since joining FCS, he has actively supported the Foundation's mission to assist adult cancer patients across Florida in need of financial support for essential, non-medical expenses. Due to the generosity of the FCS physicians in covering all overhead expenses for the Foundation, 100% of donations received go directly toward patient grants.
Dr. Storey said, "Ensuring that adult cancer patients throughout Florida are cared for, not only in a physical sense, but also from a financial perspective, creates a positive healing experience and represents the compassionate care FCS embodies. It's an honor to serve the Board and our patients in such a capacity."
"Our Board members include physicians, business and community leaders and volunteers who play an active role in the success of our mission," said FCS Foundation Executive Director Lynn Rasys. "We appreciate their time and dedication to ensure that every qualified patient receives the assistance they need."
###
About Florida Cancer Specialists Foundation
The Florida Cancer Specialists (FCS) Foundation provides financial support to qualified adult cancer patients in the state of Florida for expenses such as rent or mortgage, car payments and utility bills. By giving patients peace of mind in knowing that their bills are being paid while they are undergoing treatment, the FCS Foundation allows them to concentrate on what really matters – fighting cancer.
Due to the generosity of the Florida Cancer Specialists physicians in covering all overhead expenses for the Foundation, 100% of donations received go directly toward paying the essential non-medical living expenses of an adult battling cancer.
The Foundation is a 501(3)(c) nonprofit organization located at 5985 Silver Falls Run, Suite 210, Bradenton, Florida 34211. Learn more about the FCS Foundation at: FCSF.org or call (941) 677.7181.
For More Information, Contact:
Florida Cancer Specialists Foundation
Executive Director, Lynn Rasys
LRasys@FLCancer.com
(941) 677.7184
For More Information, Contact:
Michelle Robey, Vice President of Marketing
Michelle.Robey@FLCancer.com
(813) 767.9398