Low Country Boil 2020 (canceled)
In light of COVID-19 and our concern for the well-being and comfort of our guests, volunteers and staff, we are canceling the Low Country Boil event on April 18, 2020 at the Tampa Cancer Center. Thank you for your understanding and your ongoing support of FCS Foundation.
Fun for the whole family! Join us at Tampa Cancer Center for a Louisiana-style low country boil. Live music, dunk tank, bounce houses, raffles, face painting, children's games and more! All event proceeds provide non-medical financial assistance to cancer patients.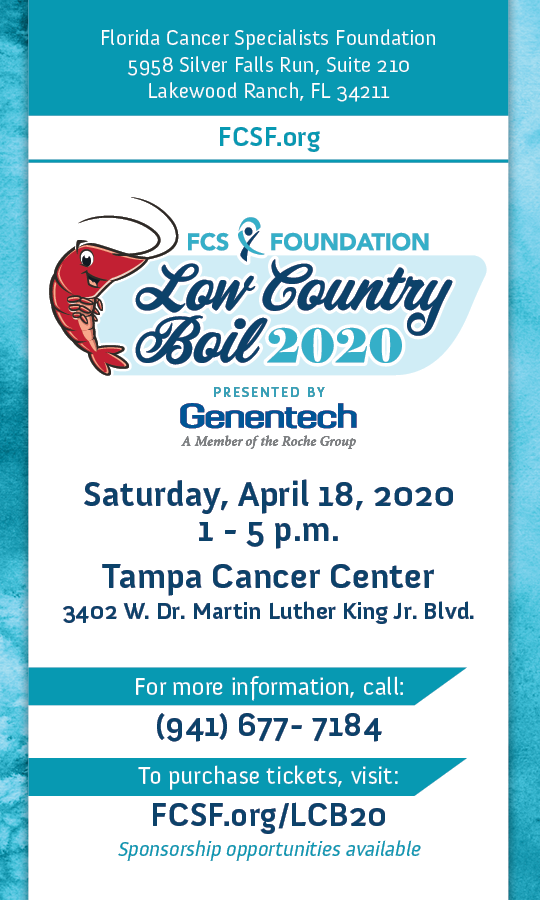 Location & Directions
*Sponsorship packages & pricing may be subject to change. Event sponsorship commitment, artwork for ad, logo and payment deadline is four (4) weeks prior to the event. Reservations must include all guest names a minimum of four (4) weeks prior to the event, or the Foundation will assume seats are donated. All sponsorships are non-refundable. Foundation events are held "rain or shine." The FCS Foundation is not responsible for cancellation of certain aspects of an event, including entertainment, due to inclement weather.